The New Learning Ecosystem
Building an education-to-employment system centered on adult learners
As the future of work continues to evolve, more adults will face career transitions that demand the acquisition and demonstration of new skills, creating cycles of learning and earning throughout life. To enable these transitions and to better support workers, we need to create a new learning ecosystem.
Download the Report
Key Findings
This new learning ecosystem should offer five critical elements to support learners:
Watch report video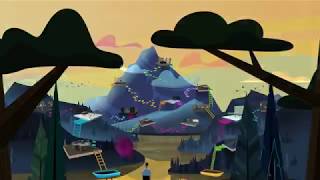 Navigating: Help learners understand their options so they can make informed decisions about which pathways to pursue.
Funding: Facilitate on- and off-ramps between education and work, through portable funding approaches and alignment between education funding and outcomes.
Precision Learning + Support: Provide tailored, just-in-time, and experiential learning with a strong support system.
Endorsement: Validate book-taught and life-learned skills in ways that job seekers and employers understand.
Opening Doors: Align new skills and experiences to new job opportunities.
Despite the rapid changes in work, the pathways to employment through education and hiring have not made as significant or important a leap. Traditional pathways to employment were designed at a time when a degree or certification led directly to a first job, and that first job acted as the foundation for a career with a clear and generally linear path forward. If you chose that path, you could feel confident that success in education would yield long-term employment and promising opportunities.
But today, career paths are much less clear and much less linear. There are fewer guarantees of long-term success from any starting point.
The pathways to employment through higher education or vocational training that we've long relied upon are not designed for today's workforce or labor market. They are siloed, opaque, and slow to change in a market that demands connectedness, transparency, and flexibility. The result is a disconnect between education and employment, and more importantly between job seekers and job opportunities.
This disconnect is evident in current labor market data, which show there are 7 million unfilled jobs in the United States and more than 11 million unemployed or underemployed individuals. Employers seeking to fill those jobs report that they struggle to find skilled labor to meet their needs. Individuals seeking job opportunities may not see a clear path to achieving their employment goals, and as a result, they could remain stuck in jobs that do not meet their needs or may give up looking altogether.
Creating a new learning ecosystem will require stakeholders from across the education-to-employment system to work together, or at least in alignment, to organize around a common goal, identify the levers of change to push and pull to work toward that goal, and share what they are learning along the way. At Strada, we're just getting started. Join us.
Innovation in Work & Learning